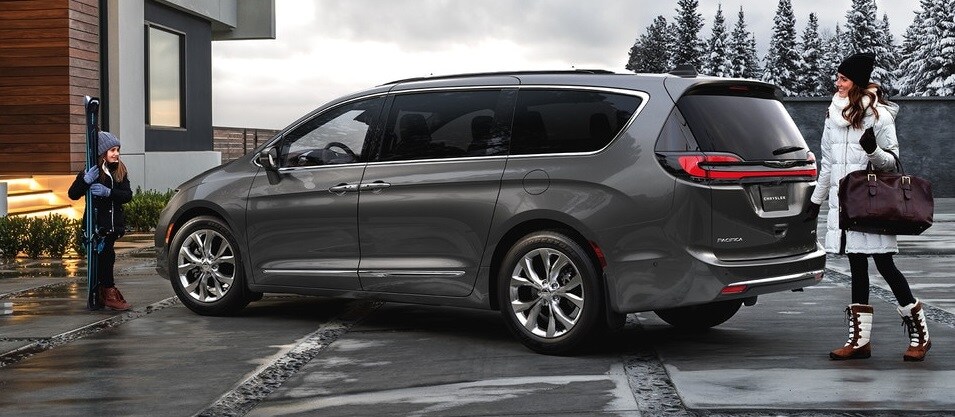 The All-New 2021 Chrysler Pacifica is on Sale at Amherst Chrysler
Buying your new car may seem a difficult task, but it should not be. You may worry about the dealerships to trust and the terms they offer. At Amherst Chrysler, we have a reputation as the preferred dealership for Jeep, Chrysler, Ram, and Dodge in Amherst, Nova Scotia. We welcome clients from Sackville, Springhill Maccan, and now we proudly serve all maritime provinces! We have a range of vehicles in our inventory that will suit your needs and offer easy financing options to our valued customers so getting pre-qualified is easier than ever.
View our online inventory of new vehicles. The new Pacifica has many new advanced features that make it a leader in its class. From its design to the tech features, the 2021 Pacifica is bound to impress many users. If you are looking for a 2021 Pacifica for sale in Amherst, feel free to place your order with us. We will be happy to deliver. If you cannot find the specific vehicle you're searching for, let us know, and we'll find it for you.

Interior and Exterior Features
The 2021 Pacifica has a stylish and impressive exterior design. It features a sleek, athletic and modern look that is bound to turn heads. The car exudes confidence and modernity from its redesigned fascia, grille, and LED fog lamps to its full-width LED taillamps and LED headlamps. It also has six different wheel designs from which you can choose.
The interior design of the 2021 Pacifica is one to marvel about. The Pinnacle trim interior offers greater luxury. It offers greater comfort for passengers than other cars in the same class. Some of the interior features include deep-quilted Caramel Nappa leather-faced seats, soft-touch instrument panel with accent stitching, second-row captain's chairs that have movable lumbar comfort pillows, and a sumptuous suede headliner.
Safety and Tech Features
The 2021 Chrysler Pacifica comes with over 115 standard safety and security features to enhance your safety as you drive the vehicle. Some of the safety features include LED headlamps, fog lamps and taillamps to enhance visibility in poor conditions, pedestrian automatic emergency breaking to avoid hitting pedestrians and blind spot monitoring with rear cross path detection to avoid collisions with objects and other vehicles behind you. It also has lane departure warning and adaptive cruise control.
There is a range of impressive tech features in the 2021 Chrysler Pacifica. The Uconnect 5 available in the 2021 Pacifica in Amherst features a 10.1-inch high definition touchscreen radio. It is the largest touchscreen in vehicles in the same class. You can customize the Uconnect 5 system into six different user profiles, giving you a wide range of entertainment and connectivity options. The system also has Amazon Alexa integration along with Apple CarPlay and Android Auto for your entertainment needs. You also get 12 USB ports to charge your devices. It also has a new FamCAM interior camera to keep an eye on your rear-seat passengers. The FamCAM camera has automatic day and night modes.
Performance Specs
The 2021 Pacifica can handle all types of roads. Its All-Wheel Drive system allows it to navigate even difficult roads. The system helps deliver torque to the wheels with appropriate traction with little driver input. That helps overcome challenging roads and conditions. In terms of engine power, the 3.6 L V-6 engine with a 9-speed automatic transmission offers a horsepower of 287. The hybrid Pacific has a 3.6 L V-6 engine with two motors, giving it a horsepower of 260. It also has a 16-kWh lithium-ion battery.
The Pacifica is rated to offer a fuel economy of 8.4L/100 km highway and 12.9L/100 km in the city. With AWD capability, the Chrysler Pacifica is one of the few minivans in Canada that offers exceptional handling.
Frequently Asked Questions
When will the 2021 Chrysler Pacifica be available?
The 2021 Chrysler Pacifica will be available starting from the fourth quarter of 2020. Contact us to order your Chrysler Pacifica today.
Will the 2021 Chrysler Pacifica offer all-wheel-drive?
Yes, the 2021 Chrysler Pacifica will be an all-wheel-drive vehicle.
Ready to Order Your 2021 Chrysler Pacifica?
If you're interested in getting a 2021 Pacifica in Amherst, feel free to visit our store or contact us online. For drivers seeking a 2021 Pacifica AWD in Maccan, check out our inventory. You can visit our website to view all of our services and discount inventory. You can schedule a service online, value your trade-in online, and order accessories online through our website. We have finance options to facilitate your purchase of a car. You only need to complete our online finance application. So get started today and you'll be one step closer to owning your next Chrysler.